I left on Tuesday, October 24. Since I was going from The Dreaded JFK Airport, I took a cab service there. Most options for getting to JFK from New Jersey are complex – there's really no public transportation that goes directly there. Even the airport van service I usually use to Newark Airport requires you to use their regular Newark service, then wait around in the airport for awhile, THEN catch a second van service to JFK. Using this particular cab service turned out to be not all that much more than the van service would have been, and was a direct route.
The flight was on Air Berlin, which I have never flown before – from what I can tell, it's a service marketed primarily to Europeans, it just happened to come up with the best fare on one of those search-across-the-airlines services. I was VERY impressed with the level of service. Not only did they have a touchscreen entertainment service, not only did they give you TWO meals during the flight (even one is unheard of on U.S. carriers, unless you're flying to Japan), they even gave everyone a "sleep kit" consisting of a travel toothbrush, a little tube of toothpaste, earplugs, a sleeping mask and slipper socks. That's the sort of thing you normally get only in first class, so points for them!
I had a three-hour layover in Dusseldorf, so I explored the airport a little and found My Little Pony German kids' books for sale on the newsstand. (I almost bought one). I also found a place to get coffee and parked myself at the gate with my Kindle. Second flight boarded right on time, and it was off to my final destination!
Once I got there, the S-Bahn – Munich's system of trains, which functions like the subway of most cities, though it's mostly aboveground – was easy to find, thanks to the directions I got from my hostel. Got to Hackerbrucke station and walked the two blocks to where I was staying. Found out the room wouldn't be available for two hours, so I checked my bags and decided to go out walking (despite the fact that I'd been up close to 24 hours at that point – didn't sleep much on the plane).
While I was in the streets, I noticed massive hoards of people – many of them in traditional German costumes – walking in one direction and crossing a bridge that was over the street where my hostel was. I decided to follow them, and found out the road ultimately led to the Oktoberfest grounds! I knew it was nearby, but I didn't realize it was that close. So I poked around the festival for awhile.
Oktoberfest looks something like an American theme park – rides, food booths, souvenir stands, etc. It's just a theme park with, well, beer tents. These weren't true tents – they were massive temporary structures housing row after row after row of long tables with benches (think picnic tables), which were overcrowded with people hoisting massive steins of beer and singing songs in both German and English. (No, they didn't have the traditional oompah bands – most of the tents featured the same kind of band you'd find at someone's wedding). No, I didn't drink – I think if I'd had any beer at that point, I'd pass out. I did take pictures, though – including of the beer wagons. Each of the beer companies brings their wares into Oktoberfest in horse-drawn carriages pulled by Clydesdales – yes, the origin of those Budweiser ads that run during the Super Bowl every year.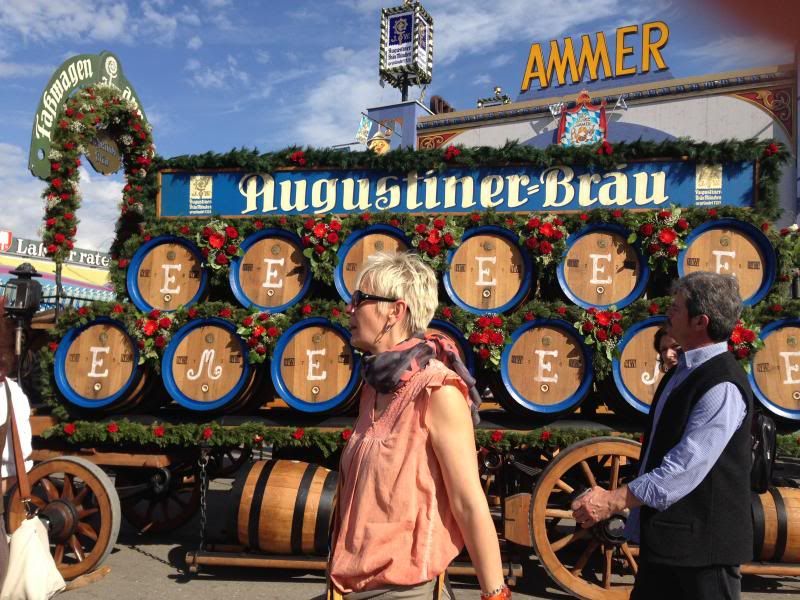 Behold the beer wagon! Yes, all those kegs are actually filled, and they're actually tapped and served during Oktoberfest.
This stand sold sweet stuff, not beer - but check out the fairy tale castle design!
So when I was exhausted, I went back to the hostel and got the key to my dorm room. Now, a word about the accommodations. I booked my trip in April, and thanks to Oktoberfest, just about all the hotels that were in the "affordable" range were already sold out. Just about all I could find was a bed in a "mixed dorm" in a hostel. I shrugged my shoulders – I'd stayed in a dorm like that in a hostel in Kyoto. It wasn't that bad – all the beds had curtains around them, so you had privacy, and the bathrooms were a public bath/shower down the hall – about five stalls and three showers. This would be the same thing, right?
Wrong. First thing I found out when I got up there was the beds had no curtains and thus no privacy – you really were flat-out sharing the room with strangers. (Not a good situation for an introvert.) Second thing I found was the only bed available was a single top bunk – where the railing was broken, so I couldn't climb up there. My nap was delayed by the handyman having to put the bed back together. Third thing I found out – there was only one toilet and one shower for seven people. Okay, whatever – I had to make the most of this. I'd shower when I could.
I put on shorts and hopped up to my bed. I got a bit of sleep when the roommates started arriving. All of them were Australians on a tour around Europe, who'd timed this part of the trip to coincide with Oktoberfest. They were definitely nice enough, though they kind of gave me a blank look when I said I'd come here for sightseeing, to meet an Internet friend and to see a Japanese band. (Hey, it's a reaction I've come to expect by now.) They went back to Oktoberfest, and I went back to sleep.
The Aussies came back while I was still sleeping, and went to sleep themselves. Around midnight, the other roommates arrived – another Aussie and an American, both drunk out of their minds and babbling about how much they love doing drugs. (The American was a pilot. Um, yeah, makes me feel REAL secure about flying). The American proceeded to tie carnival balloons to every available surface of the room – including the ladder that was my only way of getting into and out of bed, which became a problem later on that night when I had to use the bathroom. When I finally navigated the floating obstacles (feeling a bit like a character in a video game) and got to the floor, I found out I had a FURTHER problem - one of the original group of Aussies had literally drank himself sick, and was locked in the bathroom. I had to take the elevator down to the lobby and use the public restroom there - at which point I made a quiet mental note that if I were to visit a festival like this again, mixed hostel dorms were a big, fat Never Again.
Next morning I woke up early, and was the only one awake, so I grabbed a shower while the grabbing was good, got dressed and headed downstairs for the breakfast the hostel provides for guests, for a small fee. No eggs or anything like that, but there were breads and meats and cheeses (including liverwurst in small tubes), coffee and pretzels – which were a bit harder-shelled than the American variety, and served cold instead of hot. (I got the impression that Germans eat pretzels more like bread than like snacks).
I headed back toward the bus station at Hackerbrucke to meet up with
ruruu
, the LJ friend who had made it possible for me to attend the Gaze live in the first place. Hackerbrucke has a nice little mini-mall upstairs from the bus – a food store, a drugstore, some restaurants. I explored there a little until it was time to meet up with her. (I'd told her I was wearing a Fluttershy shirt so I'd be easy to spot!) We met up and went for coffee at the mini-mall, where we talked for awhile – we hit it off in person right away. Before I left, I had said that I wanted to see Neuschwanstein Castle – the real-life model for the castles in Disney theme parks. We decided we would go to Central Station, where they have a tourist information center, to find out the best options for going, and visit Marianplatz, the town center (also on my must-see list).
Fortunately, the tourist center had a very good option available – a bus tour in English that included not only Neuschwanstein but Linderhof, King Ludwig II's summer palace. We booked it for Saturday, the day after the live, then headed to Marianplatz.
Marianplatz is definitely what most Americans think of when they picture What Europe Looks Like. The center of town is a huge, ancient cathedral, Frauenkirche. It was under construction when we were there, but the inside was still pretty spectacular – the first thing you saw when you went in was a bural crypt for important Bavarian families.
Fancy digs of the Royal Dead!
After exploring Fraunkirche (we tried to find a set of mysterious footprints in the floor that were supposedly left by the devil, but to no avail), we found a place to have lunch (an Italian restaurant
ruruu knew of that had a customized pasta bar – absolutely delicious. Yes, folks, when in Germany, eat Italian!). We went back out to Marianplatz – where it began to POUR. Of course, neither of us had an umbrella, so we ducked into a doorway to wait it out.
We ended up in the old city hall, trying to find a big, old library they had. We didn't find that, but found a series of most interesting stairways and doorways. We also found an alcove dedicated to American soldiers for saving Munich from the Nazi regime. I should have taken a picture of the windows, because they were a most interesting depiction of America through German eyes. You had the Statue of Liberty, George Washington, Abraham Lincoln, Ben Franklin (without the glasses he has in most American depictions) – and Andrew Carnegie. Don't ask me how they arrived at the last choice - I don't even think most Americans even know about him, other than giving his name to the concert hall in New York.
This building was a museum next to the old Town Hall. It doesn't get much more Old European than this.
We went in search of Hofbrauhaus, the biggest and oldest beer hall in Munich. We found it, but its first floor was overcrowded and its second had stopped serving. We went across the street instead, to a much smaller beer hall operated by the Ayinger beer company, where we had a beer apiece (and, yes, being freshly brewed from the keg makes a difference. The beer was fabulous). After that, I rode to Pasing with her on the train so she could meet up with the friend she was staying with, then returned to the hostel, where I hung out in the lobby on Tumblr until I was ready to go to sleep. (Fortunately, the second night was quieter than the first).
Next day, we were supposed to meet up for dinner/lunch (Germans eat their main meal at midday) before the live, but unfortunately,
ruruu
didn't feel well – so I went to a big mall near the Pasing train station. (I got lunch at McDonalds, thinking it would be easy to order there despite the language barrier, right? Wrong! I had a harder time ordering in English there than I did just about anywhere else!) I spent considerable time poking around the supermarkets – this may sound weird, but I love seeing food stores in foreign countries. It kind of gives you the truest picture of what everyday life there is like. They have a LOT of reasonably priced, high-quality chocolate and wine in Germany, I can say that!
We headed for the live that afternoon, but since I've
covered that elsewhere
, I'm going to move on to Saturday, and the bus trip! King Ludwig II, builder of Linderhof and Neuschwanstein, is said to be "the mad king of Bavaria." I think it's closer to the truth that he was the ultimate ubergeek. He was super-creative (the palaces have to be seen to be believed), he was a fanboy (his buildings were homages/shrines to the French king Louis XIV and the German composer Richard Wagner), he kept strange hours (rising in the late afternoon and sleeping at dawn), he had to have the latest tech (telephones and flush toilets before anyone else in Bavaria!) and he was socially awkward (putting a giant artificial floral arrangement in the middle of his dinner table so he wouldn't have to speak to his guests). If Tumblr had been around in his day, he'd probably be hitting the post limit on a regular basis.
You weren't allowed to take photos inside, but I did take pictures of the outsides of both. Just the freaking gardens of Linderhof were worth the trip. Giant fountains! Statues! Carved shrubbery! The guy did not exactly live a sedate lifestyle.
King Ludwig's idea of a simple little garden at his summer place.
When we arrived at the foot of the mountain where Neuschwanstein is, we had lunch at a restaurant serving traditional German food (I had beef with noodles), then caught a bus to the top of the mountain. The bus was a thrill ride in itself. It went up a STEEP path, with a lot of twists and turns, and with every twist, the occupants (most of whom were standing) got tossed about like laundry in the dryer. I held onto one of the poles with both hands to keep from being hurled into a group of Italian tourists!
And then, we got out of the bus and started walking down the path to the castle itself. Oh, WOW. Even if it was a foggy day, the thing was impressive as hell. It really does look like every fairy tale there ever was. (You half expected your Prince Charming of choice to show up with a glass slipper. Unfortunately, Kai was on his way to Helsinki at that point.)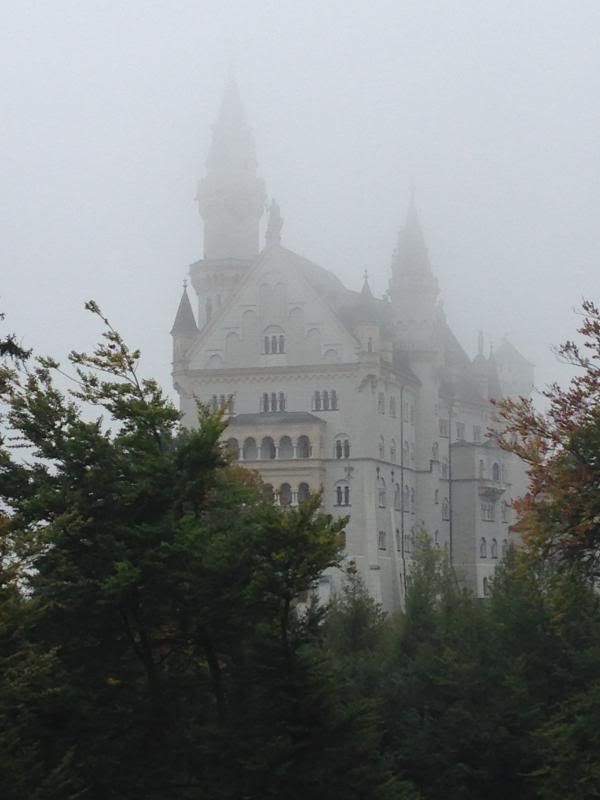 Not Disney, this is the real deal.
We went on a guided tour of the place (you weren't allowed to take pictures inside), where every room was more incredible than the one before – they all had paintings all over the walls depicting scenes from various operas, and elaborately carved gold was everywhere. I made a joke that "This guy would probably have a mind-blowing bathroom" – and sure enough, we went in the bathroom, and it was mind-blowing. (When the commode literally looks like a throne . . .) There was even a concert hall where the king could have private operatic performances for himself and his guests. (Would have been a great place to hold the live. XD)
After all that walking, we kind of needed the nice, leisurely two-hour ride back to Munich, through cow country. Literally – there were cows EVERYWHERE. Bavaria has more dairy farms than anywhere I've ever seen, and I've been to Pennsylvania Dutch Country. (We had a great time discussing fanfic – I think we may be the only two people to have casually discussed the horrors of mpreg on a Neuschwanstein bus trip. XD)
Back at the hostel, I wrote up my Munich live report – on my phone. I wanted to do it when it was fresh in my mind. My forefinger was quite sore afterward! I posted it, and then headed for bed. (Every night until this point had been much quieter than the first, by the way! I always went to bed when most everyone else was already asleep, and woke up and showered before anyone else in the room - again, getting to the shower when the getting was good).
On Sunday, I met up with
ruruu
for one last lunch (another branch of that excellent Italian place!) before we parted ways, with lots of hugs and hopes that we'll meet up again soon. (If Alice Nine carries out their statement about playing in London, we have plans to go!) I then headed to the Central Station, with my mission for the last couple of days in mind – utilize Grey Line's hop-on-hop-off bus tour to see locations I hadn't before. This is a bus that circles the city – there's two routes available, a "short circle" that hits eight points in the inner city, and a "grand circle" that goes to the outer borders. I wanted a "grand circle" ticket, because it went to Olympic Park, another location on my "want to see" list.
Sunday afternoon, I got off the bus at the Residence, a museum that was formerly the home of royalty. I didn't have time to do justice to the museum itself, but I did wander around the area, where I discovered a small street fair. I had a beer and listened to a traditional band (this one had the tubas!) for awhile. Took a few pictures of interesting buildings, and then got on the bus back to the town center. Instead of going back to the hostel, though, I headed back to Oktoberfest to see it in the evening.
Just another random huge cathedral.
Oktoberfest was busy enough when I first visited it on Wednesday afternoon, but on Sunday night, it was NUTS! People everywhere – and when I slipped into the beer tents, they were wall-to-wall! (It was kind of like a GazettE live for mundanes – people packed in super-tightly and singing, and some of them probably ended up with arm bruises like I did after the show).
Note the large amounts of traditional dress. Yes, there were stores near Oktoberfest that sold the outfits to tourists.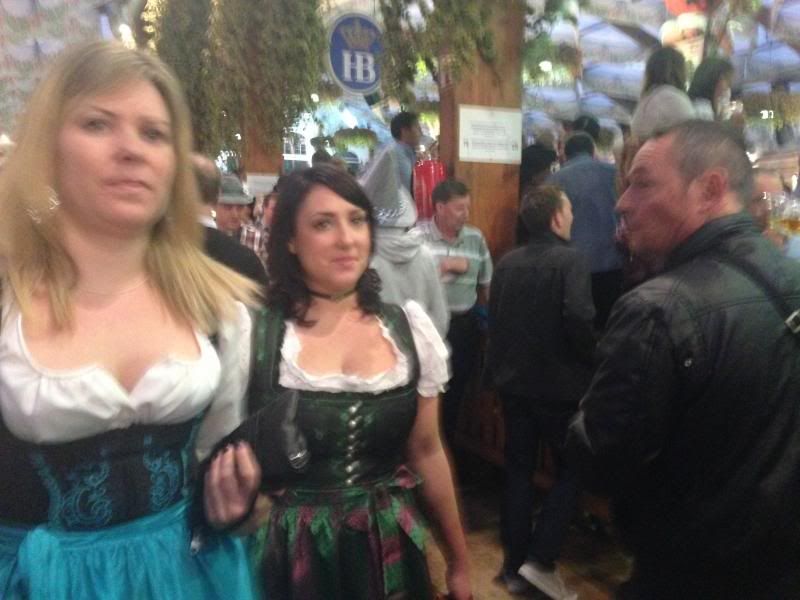 This included traditional dress for the ladies.
Meanwhile, I sampled some of the Oktoberfest food – pommes frittes (French fries) with mayo (Kai would love them) and a meter-long bratwurst – and when they say that, they mean it. It was HUGE! I also finally got an Oktoberfest beer, although not in one of the overcrowded tents – I got it at a carousel bar. Literally, it's an old merry-go-round converted into a bar. People can sit on the horses when they drink.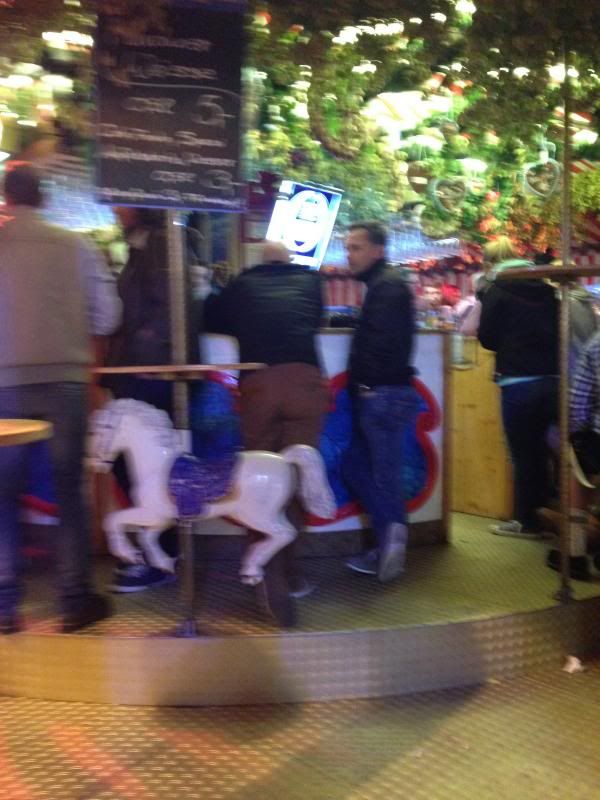 The one beer I had at Oktoberfest and the carousel bar I drank it at! Sorry for the blurry lower image, but it was the only pic I had that showed the horses.
My final day in Germany, I headed out to Nymphemberg Palace and Olympic Park on the hop-on-hop-off bus. Nymphemberg was the home of Ludwig II's grandparents. You could actually take pictures in there, as long as there was no flash, so I got the entranceway.
Exterior and entranceway of Nymphemberg. You can see that Ludwig's expensive taste runs in the family.
Part of the palace was a museum where you could see the royal family's coaches and sleighs. To say they had elaborate means of transportation would be an understatement – who needs a Cadillac when you can ride in a sleigh in the form of Hercules slaying the Hydra, complete with multiple heads?
The high-class way to travel in Germany before BMW was invented.
Moved on from there to Olympic Park, which was the site of the 1972 games (notorious as the site of a terrorist attack that resulted in the deaths of 11 Israeli athletes). A few of the original buildings are still standing, and there's a tower than allows you to get a bird's eye view of the surrounding area – including the headquarters of BMW, which literally stands for Bavarian Motor Works. So I went up the tower, peeked into the swimming complex (which now hosts a public swimming school) and went into the Olympic Stadium for awhile (hey, it was a great place to sit down)!
Olympic Stadium, from waaay up there.
I also enjoyed a Nutella crepe. Thin crepe with melted Nutella – oh, yes, it's a GazettE live for your tastebuds. (There were also signs around the park advertising an "Erotik Messe" – erotic Mass – somewhere on the grounds. No, I didn't check it out. "Erotic Mass" sounds like something that would show up on Black Moral merch, though).
And finally, one last stop in Marianplatz for souvenirs and an attempt to find a mailing tube to transport home my poster from the GazettE live. (Couldn't find one big enough. I did, however, find a big, tightly-wrapped tube of mailing paper. When I rolled the poster up tight as possible and pushed it inside the tube, it served its purpose just fine). Once I found that, I wandered around an indoor/outdoor marketplace that featured traditional German sausage shops. I also went back to the brew pub where we'd gotten beer on Thursday to have dinner – the traditional Oktoberfest meal of beer, chicken and pretzels.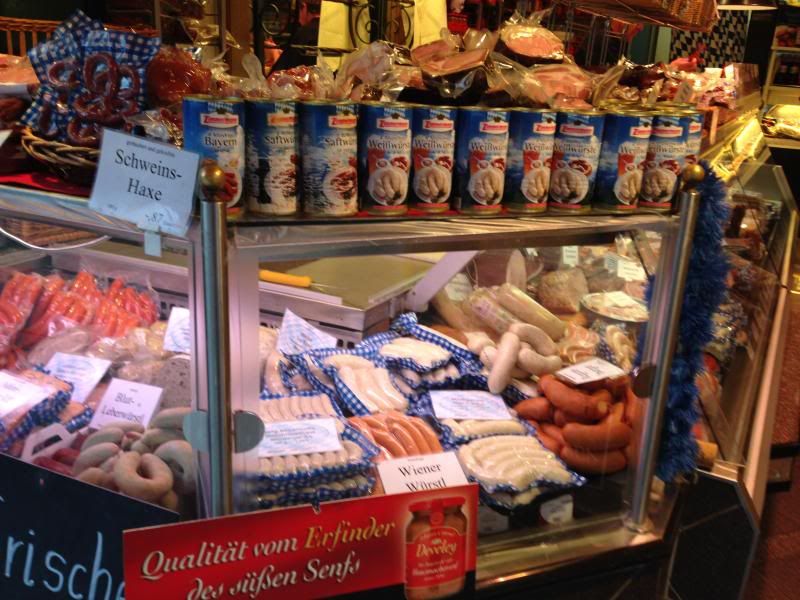 Get your bratwurst here!
Went back to the hostel to make an early night of it, since I had to get up early-early to go to the airport. Sleep was kind of a mission impossible, though, since there was a new cast of characters in the room, a group of people that spoke a language similar to German, but not quite (Dutch, maybe?) very loudly, including one guy who was NOT HAPPY about something and kept yelling and pounding the walls – and the frame of my bed. (Did I mention NEVER AGAIN when it comes to mixed dorms in hostels where large amounts of drinking go on?)
Fortunately, everything in the trip home itself was smooth – train trip to the station, flight from Munich to Dusseldorf, flight from Dusseldorf to New York, and the cab service back home, though I had to wait a few anxious minutes for the cab and thought they wouldn't be able to find me. And this time, I DID sleep on the plane!
So, that was the trip, and it was quite an experience. It's something I'd gladly do again, with a change in the accommodations (and now that I know how very efficient the Munich trains are, I could stay somewhere outside the city center and commute in). And I'm very, very glad I got to meet and hang out with
ruruu
– that's what really made this trip something special.
And before I sign off, a couple of random funny signs!
"Schmuck" means "jewels" in German, not "jerk" like it does in America. This is a store that would be burned down by the Tea Party.
Thomas Cook is a travel agency in Europe. Someone took it upon themselves to creatively alter their sign.
I've already talked about the GazettE live that I went to in Munich (September 27, 2013 – a date that will live in personal fangirl infamy XD). Now, here's what happened the rest of the trip!